Newsletter No. 30 / 14 August 2020                             
Click on any ad to go to the advertisers website..
PnP Clothing's new collaborative partnership celebrates SA design
Pick n Pay Clothing is launching limited, exclusive collections in collaboration with promising young South African designers. This project is the result of a partnership between the retailer and award-winning fashion designer, Gavin Rajah, who will mentor the designers and help them create exclusive collections for PnP Clothing in the coming months.
These collaborations will support local talent and make designer clothing more accessible to more South Africans at affordable prices.
Pick n Pay Clothing notes that the collaborative partnership will fully celebrate local design and manufacturing, from the designer's inspiration to the production and creation of the ranges.
"South Africa is home to many talented local designers but not all have the platform to grow their brands commercially. Through these collaborations, our goal is to deliver great value fashion which captures the latest style and trends. We can promote local designers to support them in growing their range to a greater audience," says Hazel Pillay, general manager for Pick n Pay Clothing.
Pick n Pay Clothing x Julia
The first collaborative range is designed by Julia Buchanan and is inspired by the country's powerful women. The Pick n Pay Clothing x Julia collection is a celebration of femininity and florals. It includes seven items, including a kimono, dresses, a wrap skirt, and shorts, with costs ranging between R279,99 to R399,99. There is also a mask and RPET bag in the signature prints.

Explaining the inspiration for the collection, Buchanan, says, "The collection is inspired by the local landscape. The garden has been used as a canvas to symbolise a space of growth, nature and resilience, particularly in a time of Covid-19 uncertainty and the darkness of gender-based violence in South Africa. The signature pink, a universal symbol for love, is predominant in this collection and represents affection, harmony and compassion."
She adds, "The range also celebrates women's empowerment. Julia, as a brand, has always sourced fabrics locally and had our garments made by a group of women in surrounding communities. We are glad we could extend this ethos with this collaboration."
Buchanan created her swimwear and apparel brand five years ago after noticing only a few places sold locally-made, affordable swimwear with original fabric prints. She later expanded into linens and accessories but has always wanted to extend her clothing line and cater for a broader audience. "This collaboration has given me an incredible opportunity to design for a wider consumer base."

The Pick n Pay Clothing x Julia range is now available in 50 selected PnP Clothing stores while stocks last. The full collection will also be available online at the online store.
Pillay comments, "We are always finding more ways to support more local businesses. This is the first collaboration for this new campaign, and we are excited to work with more designers to celebrate the vibrant and colourful energy of South Africa."  Bizcommunity
Kingsgate Clothing adds localised isolation gown to PPE line-up
The Kingsgate Clothing Group has expanded its personal protective equipment (PPE) production line-up to include isolation gowns, used by hospital personnel.
The group already produces cloth masks for the commercial and corporate market.
Kingsgate Clothing Group executive Ahmed Dhai says the gown project forms part of a wider effort within the South African clothing industry and government to provide localised solutions to the country's fight against Covid-19.
"The isolation gown has largely been imported thus far. While there has also been a level of local production, nothing has met the required standards of SANS 53795.
"I am pleased to advise that we have now managed to make two successful products that meet the required standard.
"One is from an entirely localised supply chain, with the material coming from Gauteng, and the other from an imported fabric supply, but with local production," says Dhai.
Kingsgate Clothing plans to produce the isolation gowns at its factory in Hammersdale, near Durban.
"We need government to now buy this from us before we can kickstart the production line," says Dhai.
"We believe that 50 workers can produce 10 000 garments a week. With the demand running into the millions, we believe we can use this product to sustain our industry over the next few months.
"It is critical to note that both gown products cost only 50% of the maximum regulated price as indicated by National Treasury," he adds.
"And, in addition to saving government expenditure on isolation gowns, the localised supply chain creates jobs and pours liquidity into the local economy at a critical point in time."
Dhai notes that Kingsgate Clothing has uploaded the approved products on the Business for South Africa Covid Portal, which now makes them eligible for procurement by the Solidarity Fund and any other organisation that needs the product.
Dhai says Kingsgate Clothing is still producing clothing items too.
"We have lost the entire winter season, so we did not do any winter production. We'll hold the winter raw material for a year, and have now moved onto summer production. From August onwards we'll distribute summer clothing.
"But demand levels are not the same as usual. The Edcon group's business rescue has taken considerable volumes out of our business and we need to redirect capacity to PPE to maintain operations at a sustainable level."
Kingsgate Clothing is a family-owned business that recently celebrated its sixty-fifth birthday. The company produces 95% of its clothing in Southern Africa. It supplies clothing lines to retail outlets such as Mr Price, PEP and Jet, while it also provides various government departments with uniforms, linen and patient wear.
The group employs about 1 000 people directly, as well as roughly 5 500 people indirectly, for example, by outsourcing to a number of other factories, as well as to printing and embroidery businesses. EN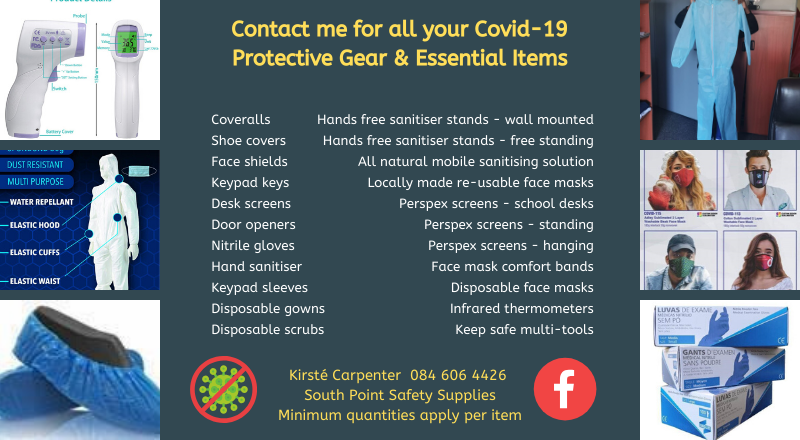 COVID-19 hits more than 100 Kenyan apparel units
More than 100 Kenyan apparel manufacturers have temporarily closed, sending hundreds of workers home because of a decline in demand in export markets, primarily in the United States. The affected units are mostly from the Export Processing Zones (EPZs) in Nairobi, Mombasa, Kisumu and Machakos, the industrialisation, trade and enterprise development ministry said.
"The clothing manufacturing industry has been punched hard by COVID-19 devastation as its main export has been the United States of America," industrialisation, trade and enterprise development cabinet secretary Betty Maina said.
A few have however remained afloat, she said, and have turned to the production of face masks and other personal protective equipment, as exports declined, according to a Kenyan media report.
The manufacturing sector, one of the Big Four Agenda pillars and critical for the country's economic growth and development, remains among those affected by Covid.
At least 30,000 direct jobs had been lost in the sector by June, data by the Kenya Private Sector Alliance (KEPSA) indicates, with more than 5.9 million jobs being affected across the economy since the first case of COVID-19 was reported in March.
Other sectors hard hit include tourism and hospitality, public transport, construction, real estate and trade.
Data compiled by KEPSA indicates at least 5,991,768 direct and indirect jobs have either been lost or workers sent home on unpaid leave as companies and businesses mitigate the effects of the virus.  F2F
TFG – results of the rights offer
TFG shareholders are referred to the announcement released on the Stock Exchange News Service ("SENS") on Thursday, 16 July 2020, relating to a fully underwritten renounceable rights offer to qualifying TFG shareholders to raise, in aggregate, gross proceeds of up to R3.95 billion (the "Rights Offer").
The Rights Offer consisted of an offer of 94,270,486 new TFG ordinary shares ("Rights Offer Shares") at a subscription price of R41.90 per Rights Offer Share.
The Rights Offer was fully underwritten by Rand Merchant Bank, a division of FirstRand Bank Ltd. The Standard Bank of South Africa Ltd. and Absa Bank Ltd. ("the Joint Global Coordinators and Underwriters"), subject to customary terms and conditions.
Results of the Rights Offer
The Rights Offer closed at 12:00 (South African Standard Time) on Friday, 7 August 2020.
The results of the Rights Offer are set out below:
Number of Rights Offer Shares and % of Rights Offer
Rights Offer Shares available for subscription : 94 270 486; 100.0
Subscription for Rights Offer Shares : 92 648 575; 98.3
Applications for excess Rights Offer Shares : 122 799 202; 130.3
Excess Rights Offer Shares allocated : 1 621 412; 1.7
As the Rights Offer was fully subscribed after taking into account excess applications received, the Joint Global Coordinators and Underwriters were not required to subscribe for any Rights Offer Shares in terms of their underwriting commitments.
Issue of Rights Offer Shares
Share certificates are to be posted to holders of certificated TFG ordinary shares or their renouncees or purchasers of their letters of allocation, who have followed their Rights, on Tuesday, 11 August 2020.
The CSDP or broker accounts of holders of dematerialised TFG ordinary shares or their renouncees or purchasers of their letters of allocation, who have followed their rights, will be credited with the Rights Offer Shares and debited with the payments due on Tuesday, 11 August 2020.
Excess applications
TFG received applications for 122 799 202 excess Rights Offer Shares of which 1 621 412 excess Rights Offer Shares were allocated. Excess Rights Offer Shares were allocated on a pro rata basis to qualifying shareholders who applied for excess Rights Offer Shares by taking into account the number of shares held by the qualifying shareholder prior to the Rights Offer and the number of Rights Offer Shares taken up pursuant to the Rights Offer.
Share certificates will be posted to holders of certificated TFG ordinary shares, who have been allocated excess Rights Offer Shares on or about Thursday, 13 August 2020.
The CSDP or broker account of holders of dematerialised TFG ordinary shares who have been allocated excess Rights Offer Shares will be credited with the Rights Offer Shares and debited with the payments due on or about Thursday, 13 August 2020.
Refund payments in respect of unsuccessful applications for excess Rights Offer Shares will be made to the relevant applicants on or about Thursday, 13 August 2020.
Did you know……..
Pink & Blue
Pink is for girls and blue is for boys, right? That's what any baby shower would have you believe. But it wasn't always so, and in fact it was the opposite for a long time. As recently as 1918, a clothing catalogue advised that pink was the ideal colour for little boys, because "it's a stronger and more passionate colour, and because it's actually derived from red." And for girls, blue was a "much more delicate and dainty tone."
To Advertise…..   Click here to see fact sheet with advertising rates. 
Editorial Submission:
Please remember to send me your news so that we can share it with all our readers in the weekly newsletter.
Although editorial is neither guaranteed nor implied, suitable editorial for consideration may be submitted to: